Laverton Greenstone Belt 4.5km south of Burtville Mining Centre (ASX:FML)
Extensive shallow high-grade gold workings over 450m strike
Historical recorded production of 2,074oz @ 50g/t Au (1902-1911)
Mineralisation associated with quartz veining and ferruginous cherts – untested at depth
Recent SAM survey over tenement area to aid drill targeting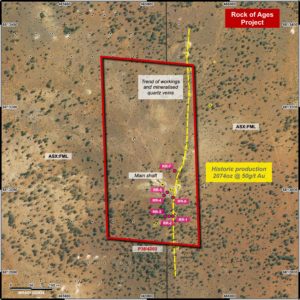 The Rock of Ages Project comprises prospecting licence P38/4203 covering 9.71ha. The project is located approximately 32km southeast of Laverton within the Merolia Domain of the Burtville Terrane in the Eastern Goldfields Province of the Yilgarn Craton, Western Australia.
The project lies on the Laverton Greenstone Belt, around 4.5km south of the historical Burtville Mining Centre and is surrounded by Focus Minerals (ASX:FML) Laverton Gold Project, with the neighbouring deposits of Burtville (206,000oz at 0.96g/t Au) and Karridale (1.19Moz at 1.33g/t Au) within a 5km radius. The tenement contains the historical Rock of Ages workings, a series of shallow mine workings over approximately 450m strike, associated with quartz veining and ferruginous cherts, within mafic schists. Historical records indicate 2,074oz Au was mined from the workings between 1902 and 1911 at an average grade of 50g/t Au.
The depth and strike of the mineralised quartz veining, as well as the potential for parallel veining, has not been drill tested. Esmeralda Exploration Pty Ltd attempted to drill underneath the historical workings in 1985, with 10 RC holes drilled to a maximum depth of 50m and average depth of 42m. This was largely ineffective, either encountering mined out stopes down to a vertical depth of approximately 35m or ending in the hanging wall before reaching the target.
Focus Minerals recently completed a ground based SAM (Sub-Audio Magnetic) survey over their neighbouring tenements and included WMGs tenement P38/4203 in the survey area. WMG intends to use the results of this survey, as well as follow up high-resolution ground magnetics if required, to identify and map the major shear structures passing through P38/4203 and then drill test these with aircore drilling as well as deeper RC drilling to test the known mineralised historical workings.